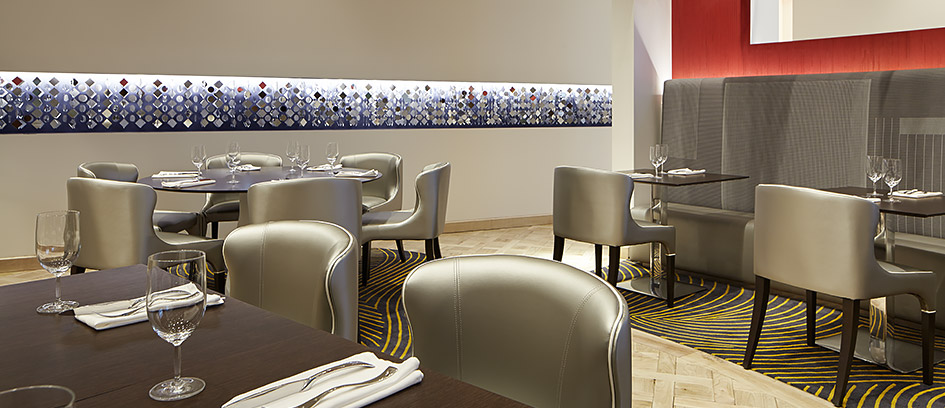 A Setting For Extraordinary

Postmodern Dining

You're forgiven for thinking you've entered a contemporary art museum rather than an elegant dining room. The flamboyant, abstract expressionist canvases, the postmodern lotus flower chandelier, and the 20-foot-tall skylight were all designed specifically for this exquisite space.

But then our Executive Chef's inventive global menu assures that you are here first and foremost for the fine dining. Fresh, local ingredients become seasonal works of art in such creative dishes as sous vide braised and grilled octopus, roasted bone marrow with crab cake crust, and sweet potato donuts for two, served with artistic brushstrokes of brown-butter ice cream and pecan-honey ganache—with the occasional retro dish thrown in, including deconstructed short rib beef bourguignon. JP Atlanta Restaurant & Bar is one culinary experience you won't want to miss.
Hours
Sunday
Breakfast: 6:30 am – 10:30 am
JP Atlanta Dining Room: Closed
JP Atlanta Bar: 12:30 pm – 9 pm
JP Atlanta Lounge Food Menu: 12:30 pm – 9 pm
Room Service: 6:30 am – 10:30 am
Room service: 5 pm – 9 pm
Friday and Saturday
Breakfast: 6:30 am – 10:30 am
JP Atlanta Dining Room: 11:30 am – 9 pm
JP Atlanta Bar: 11:30 am – 10 pm
JP Atlanta Lounge Food Menu: 9 pm – 11 pm
Room Service: 6:30 am – 10:30 am
Room Service: 5 pm – 9 pm
Monday - Thursday
Breakfast: 6:30 am – 10:30 am
JP Atlanta Dining Room: 11:30 am – 9 pm
JP Atlanta Bar: 11:30 am – 10 pm
JP Atlanta Lounge Food Menu: 9 pm – 10 pm
Room Service: 6:30 am – 10:30 am
Room Service: 5 pm – 9 pm